So you want to see behind the scenes at Milford Window Company?!  Nestled in Godalming, Surrey, we at Milford Window Company are more than providers of high-quality windows and doors.  Everything we do on a day-to-day basis is a testament to the power of family values in a business. 
Since our doors opened way back in 1999, we've always taken great pride in weaving warmth and integrity into every aspect of our operations. We thought it would be fun for you to join us as we unravel a typical day, giving you a glimpse into the dedication, passion, and familial bonds that underpin the rhythm of our company.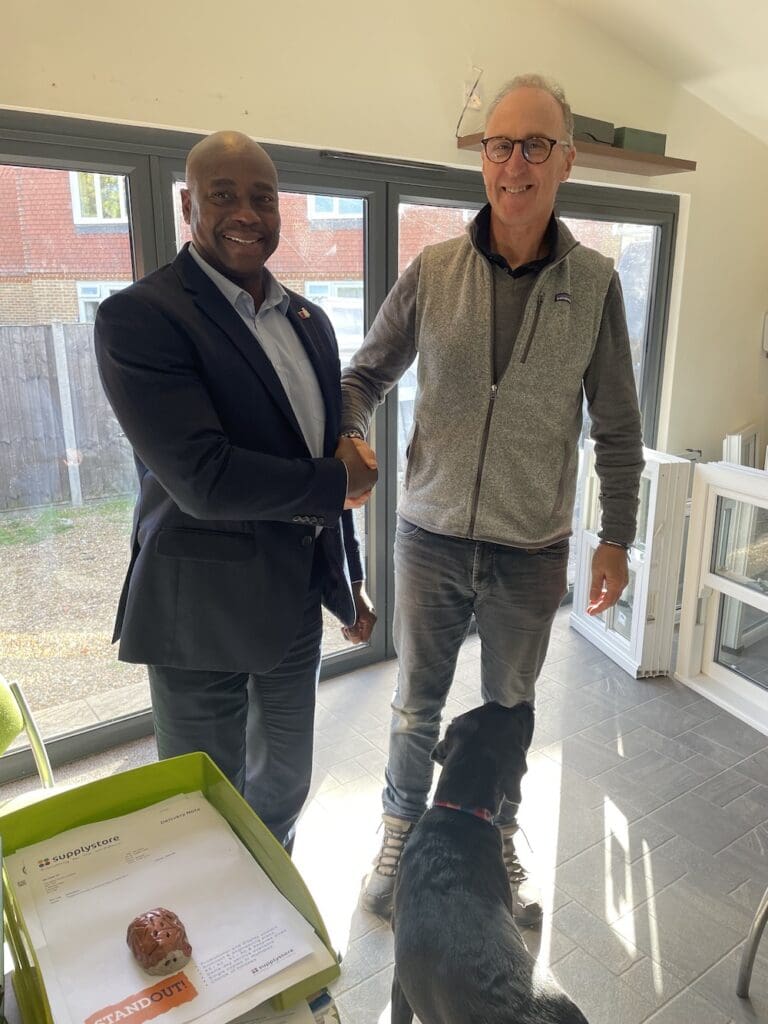 Monday morning began with a meeting with the lovely Sylvester from Dekko, our long-time supplier of PVCu windows and doors, as well as windows and doors from The Residence Collection.
Sylvester, one of our most dedicated account managers, had booked in a catch-up a few weeks prior. He likes to check that all is running smoothly between the two companies, and to make sure we are continuing to get everything we need from them. Great, eh!
In the spirit of our familial atmosphere, we snapped a photo of Tim and Sylvester, which of course included Billie, our resident diva dog, seizing the chance to be part of the photo op.
With the colder weather setting in, our inbox had received a surge of enquiries over the weekend, a testament to the growing demand for our products. The week unfolded with a flurry of quoting activities, particularly for the trendy art deco Heritage aluminium style, which are replacing ageing crittal windows. They really struggle with condensation during winter, and no one wants that!
Behind the Scenes at Milford Window Company
Throughout the week, Tim, founder no1, delved into the initial stages of quote preparation, conducting site surveys and crafting meticulous drawings. Working in tandem, Georgina, founder no2, liaised with suppliers, piecing together the final quotes and sending them on their way to our customers.
As Christmas looms, we're finding ourselves busy placing orders with our suppliers to ensure we don't miss the end of year cut-off dates! And yep, we're now planning installations well into January!
The Office Hounds
In the midst of every workday, Tim & Georgina look forward to a midday break that extends beyond the professional sphere. At lunchtime, they head out to Broadwater Rec and the old golf course to walk the beloved office dogs, Henning and Billie. Occasionally leading to a coffee stop at Ritual Coffee bar, it allows them to take a step away from the office, stretch their legs and refresh their minds, ready for the afternoon.
Of course, you're dying to see a pic of the dogs, right?!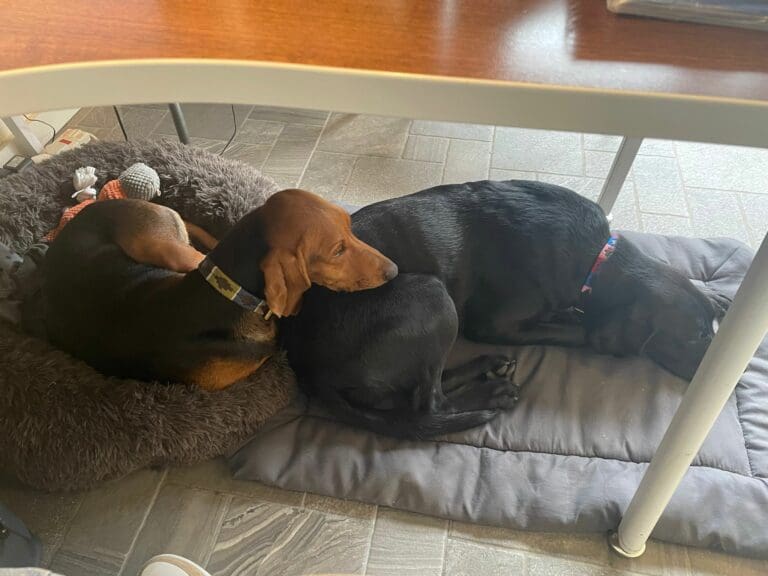 Billie, a black labrador, has been with us a wee while and is Giles' pup.  She'll ride to work with Giles in the morning and then stay by Georgina's feet for most of the day.  Except, of course, when there's a photo to be taken or a walk to be had!  Henning is a recent addition to the family and is a 2 year old rescue hound from Greece.  He's settling in so well already, and he and Billie are becoming the best of friends.
Family Values at the Core
Being a family-run business isn't just a label for us; it's a guiding principle. Our commitment to excellence is deeply rooted in the values that come with being a family enterprise; trust, pride, accountability, and a shared sense of purpose. This ethos permeates every interaction, whether it's in the thorough quoting process, the lunchtime dog walks, or the planning that takes place to ensure we're always at the top of our game.
Out In the Field
The day continues with the boys—Giles, Guy, and Ben—heading to job sites in the morning, where they immerse themselves in the practical aspects of window installations and won't return until they're satisfied with their day's work. Oh, and let's not forget to mention that Guy and Giles are Tim's sons!
A few times each week, Alana, Tim and Georgina's niece takes charge of the Solidor quotes and manages our blog posts and social media. 
As a true family business, our roles interweave here and there, creating a tapestry of expertise and commitment that defines our identity.
As the week draws to a close, it's nice to look back on all that has been achieved; from happy customers with glowing testimonials, to conversations being started about projects anew. 
The familial bonds, attention to detail, and commitment to excellence create a picture that goes beyond business transactions. Each day, from the meetings with suppliers to the hands-on work at job sites, is a testament to our dedication to providing not just products but experiences rooted in the warmth of family. 
At Milford Window Company, excellence is not just a goal; it's a tradition nurtured with every door and window we install and every relationship we build.