Well, spring has most definitely sprung!  As the weather warms up and the sun starts to shine, you might be starting to think about updating your patio or outdoor space. 
With a few Bank Holidays on the horizon and Easter weekend just gone, you might be scheduling in a few trips to the garden centre.  We certainly are!  Squires in Godalming is our destination of choice.
It may not be the first thing that comes to mind, but one of the most important elements of any patio is the door that connects it to the house.  There are a variety of options to choose from when it comes to patio doors and it's worth taking the time to consider each one.
In this blog post, we'll explore 3 different types of patio doors that are available and discuss what makes each one unique and well-suited to a particular home and purpose.
If you're stuck wondering which patio doors are best, we've got you covered.
Bi-Fold Doors
Bi-fold doors are a popular choice for modern homes and outdoor spaces. If you're not 100% sure what bi-fold doors are, they're a series of panels that fold up like an accordion to create a wide opening to the outdoors. 
---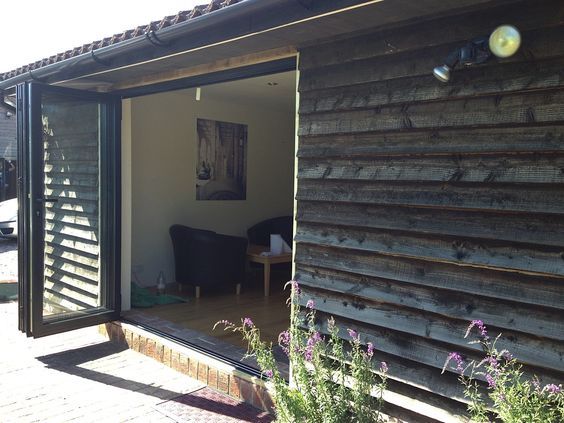 They're ideal if you're looking to create an indoor/outdoor living area, as they offer a seamless transition between the two spaces.  When they're open at full stretch, you really do get the feeling that you're bringing the cosiness of your home outdoors, and a little nature and tranquillity inside, too.
Not only that; depending on whether you want just a little fresh air, or a whole gust of it, you can choose to open your bi-folds as much or as little as you want and because of the engineering design you don't have to worry about them being blown about.
Bi-fold doors are extremely versatile and can be customised to fit most spaces.  They can be made from a variety of materials, including wood, aluminium, and uPVC.  
That said, when it comes to bi-folds, we stick to aluminium, and we love Origin aluminium bi-fold doors.  This is because wood and PVCu are susceptible to thermal movement and don't last the test of time. For this usage, you really can't beat the structural integrity and lightweight properties of aluminium.  Not to mention that when working with aluminium, you can choose to have your bi-fold doors made in one of over 500 RAL colours.  Pretty great, huh!
And how could we forget?!  Aluminium bi-fold doors offer excellent insulation and energy efficiency, making them a great option for you if you're looking to reduce your heating and cooling costs.  
NB: Something to keep in mind when considering bi-fold doors is that you'll need to allow for projection space as the doors open up and once they're in the full open position.
French doors
French doors are another popular choice and can be used when  your opening is narrower.  They consist of two doors that open outward, creating a wide entrance to your patio and garden. 
If you want your new patio doors to work seamlessly with your existing windows, French doors could be your best choice.  Where bi-fold and sliding doors offer the option to create a complementary contrast, French doors create a timeless and elegant aesthetic.  There are also more options to find a style that matches – or closely matches – the windows in your home.
If your door opening is on the smaller side – around the 2m mark – French doors are where it's at.  You can still have French doors if the opening is wider than 2m, but you'll need to think about incorporating side-panels into your design.
Our French doors of choice are Residence Collection and Infinity.  We love installing them in the Victorian homes around Guildford and Godalming because they just look so darn good!
Sliding doors
Sliding doors are a classic choice for patio doors. They're made up of two or more panels that neatly stack as they slide behind one another to create an opening to the outdoors. 
They're an ideal fit if you're looking to maximise space, as they don\'t require any additional space to swing or fold open.
That said, if you have a small door opening, they probably won't be your best choice.  Due to the way they operate, there will always be one fixed panel of glass in the door opening.  So if you're working with a small opening, that essentially halves the space you have to walk in and out of your patio door, making it even smaller.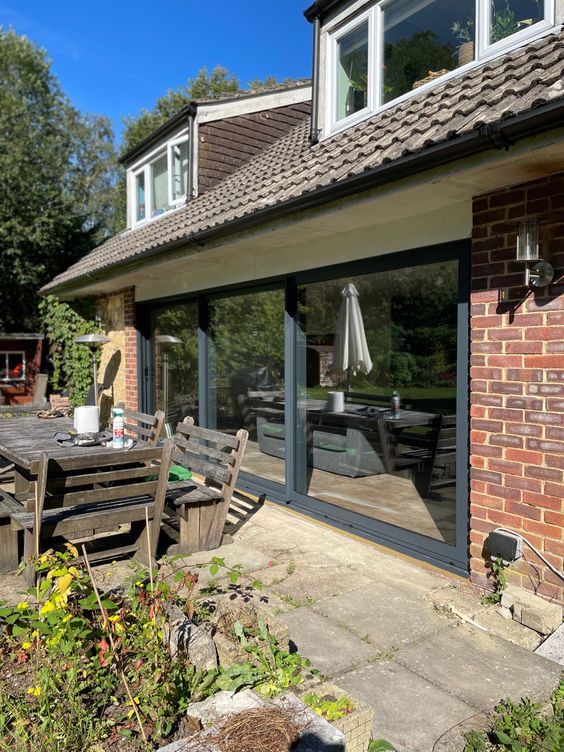 If the view to your patio and garden is really important to you, sliding doors might be your top pick.  The way the frames and sliding system are designed means you're able to maximise the amount of glass in your door.  Plenty of opportunity to admire the flowers, birds and butterflies, and enjoy the sun streaming through!
We provide and install sliding doors in both aluminium and PVCu and are proud approved installers of Origin and Infinity doors in Guildford, Godalming and the surrounding Surrey villages.
So, which patio doors are best?
The ones that suit your home and needs the most!
There are a variety of patio door options available to you, each with their own unique benefits and features.
Bi-fold doors are ideal for creating a seamless indoor/outdoor living area, French doors add a touch of elegance to any home and sliding doors are a classic choice for maximising space.
No matter which patio door you choose, be sure to work with a reputable window and door company to ensure a high-quality installation that will last for years to come.
Local to Guildford, Surrey?  Why not get in touch for a quote.