Getting new windows is something you want to get right the first time.  They're an investment and you want to make sure you've done your due diligence before signing that contract!
But it can feel like a minefield when you first start out.  There's so much choice, so many acronyms, and questions over whether you need this and that.  
When you do have an idea of what product you want, you need to find a window installer near you (see the bonus point for why this is important).  Even though it might seem like the more budget friendly option to source yourself and find an independent window installer, we always recommend going with a window company who both supply and install (like us) and we've written about why, below. Cue acronyms!
We've put together a list of 4 of the most important things you need to consider when buying new windows – and a bonus red flag section! – to help you wade through some of that overwhelm. 
As long as you've checked each one of these off the list, you can feel safe and confident in your purchase.
1. When getting quotes for new windows, only contact FENSA registered companies. 
What is FENSA, we hear you ask?
"FENSA is a government-authorised scheme that monitors building regulation compliance for replacement windows and doors. Each FENSA Approved Installer, from large national brands to small local companies, is assessed regularly by us to ensure its compliance to building regulations is continually maintained." – FENSA
Essentially, they help you feel safe in the knowledge that your window installer will do a proper, regulated job.  
Here's what to expect when using a FENSA approved window installer (and of course, we\'re registered and approved).
You can guarantee that your windows will be installed according to building regulations, are energy efficient and registered with your local council.  
It's also a guarantee that your window guarantee (tongue twister!) is insured, which is really important, should the company you use go out of business.
You can search for your local FENSA approved window installer on their website or simply Google \"FENSA approved installers near me\".
2. Window companies who are members of the GGF is a bonus! 
The Glass and Glazing Federation, or GGF, is the industry authority recognised by the government (which is great as they get to influence new standards and regulations).  
But what does that mean for you?
A GGF member (we are one of them!) is recognised as having financial stability and as a company that has been trading for a minimum of 3 years.  

We've all watched those episodes of Grand Designs where the window company goes AWOL, later to be found in administration, with their windows nowhere to be seen.  Well, this is one way to bolster against choosing a company that might happen to. 
A GGF member has employees and premises fit for purpose, and employs trained professionals.

This ensures your installation is to the highest technical standards; standards that are written by the industry's leading experts.  We know exactly the training our installers have been through…they're family!
3. Get company references and recommendations to commence your new window search.
References are SO important.  What's the first thing you do when you're looking to have work done on your house?  Ask your friends/family/neighbours if they know of anyone.
Of course, companies like TrustPilot exist, but if you're anything like us, you just feel safer when you're going off personal recommendations.  Even better if you've seen the work for yourself.
Ask around, people are always so keen to share!
4. Visit the company showroom to view window samples and meet the people behind the business.
There's nothing like being able to touch and see with your own eyes the new windows you're about to buy.  
Take The Residence Collection for example; being able to see the wood grain finish for yourself, you'll see just how true to life it is.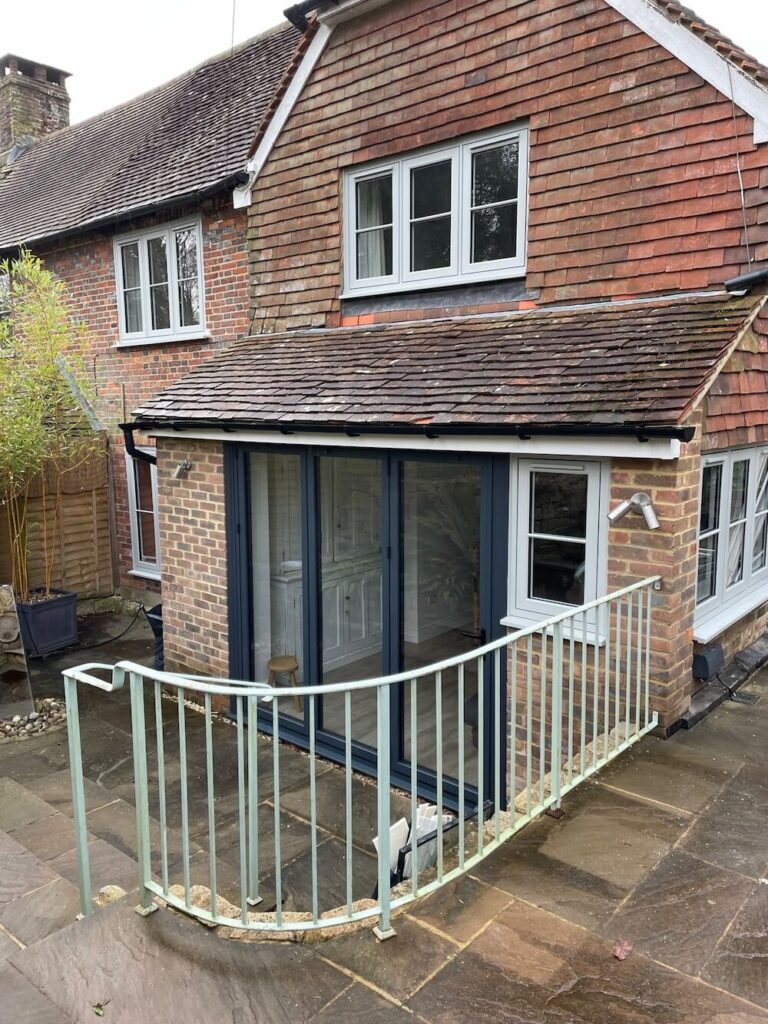 You might not know exactly which product you want, and visiting the showroom can help you make that decision.  You get to talk to an expert in the field who will advise you about what suits your needs, house and budget, best.
Not only that, but when you visit the company showroom, you'll get to meet some of the team members (probably not the window installers as they\'ll be out on a job!) responsible for your new windows.  You can ask any questions you have there and then, and will get a good feel as to whether they're the right window company for you.
We're always happy to welcome people into our showroom in Farncombe and love meeting the people we're going to be carrying out the works for!
5. Things to avoid when choosing a company to provide and install your new windows.
Yep, there are red flags to look out for when buying new windows.  Here's a quick run-through.
Don't use a company that's miles away from where you live.  Local really is best when you're getting anything done to your house, which is why we only provide and install windows to Guildford, Godalming and the surrounding villages.

When a company has had to travel extensively to get to you, the after sales service will most likely be appalling.  

Let's say, for any reason, you need the company to come back to look at the windows they installed (it happens).   A company that has to take a lot of time -and miles – out of their day to come and see you is less likely to want to do so, and you'll get fobbed off with a 'packed diary' or some other excuse.
If the company offers to do the work for you without taking a deposit, they might not be getting your windows in to order (perhaps using something they have leftover from another job) and 'making do'.  This screams botch-city; you wouldn't believe the length some people go to!
Yes, waiting for the company to fit you into their diary can be a bit frustrating when you want or need the work done quickly.  But trust us, you're much better off waiting.  A window company being able to fit you in quickly is a sign that they're not busy, which is a cause for concern.
The window installer or company come down in price to match your budget without changing the spec.  This is another one that initially, you might be really pleased about.  But trust us, it means they're going to be cutting corners somewhere. Probably don\'t start by Googling \"cheapest window installers near me\" – you\'ll be asking for trouble!
It seems too good to be true.  It's very rare, especially in this game, that things aren't too good to be true.  Trust your gut!
So that's the grown-up stuff done.  Now you get to play with styles, colours and finishes. 
We've written a guide on how to do that, too.  It's for doors, but the same stuff applies to windows.
If you're local to Godalming or Guildford, Surrey, then give us a call and we can arrange a time for you to drop by.