When choosing new windows, it can be easy to choose a design or style based purely on what you like.  But that doesn't always mean it's the style or design you should end up going for.
Changing anything on the exterior of your house should be done with the architecture of your house and that of your immediate local area in mind.
But how do you know what's what?
Have you ever noticed that many of the buildings in your immediate local area are of the same-ish style (with likely a handful looking completely different)?  That's because they'll have been built around the same time – or in the same 'phase' – as each other.
You might even notice that the majority of buildings are the same, with a cluster looking slightly different.  In the last 20 or so years, we've seen developers build neo-Victorian and neo-Georgian houses, to be sympathetic with the architecture of the local area.
You may live in one!  If you do, keep that in mind.  Just because it's a new build, doesn\'t mean it should have modern style windows.
If you're not sure what era your house was built in, you should be able to find out with a quick Google search.  
Better yet, speak to the window company you're working with and ask them what type of windows will best suit your house, and if they supply them.  A photo of your house will come in handy here.
We're always on hand to help our customers choose the right windows for their house and local architecture, but sometimes it can be tricky to know what questions to ask.
So we've put together this quick guide to help you select the correct style of windows that will complement your home's architecture and surroundings.
1. Make sure the windows you choose are in keeping with the architecture of your home.
We mentioned it above, make sure you're choosing the right windows for your home and locality.
Do you know what period the houses in your local area were built in?  Is your home the same or similar to those on your street?
There are really important things to find out, and it's why working with a local window company pays you back in spades.
Any local window company worth their salt will not only be able to advise you on the correct style and design of windows for both your home and your local area, they will also be more likely to supply the style and design you need!
For example, many of the properties in Godalming and Guildford are Victorian.  We therefore install a lot of sliding sash windows.  Many houses have old timber casement windows, so a flush window system such as Residence Collection are well suited to replicate that timber look.
We are great believers in installing the right windows for your home.  Take a look around, see what your neighbours are doing, and don't be afraid to ask for guidance.
2. When choosing your windows, consider using colour.
OK, this is where you get to bend the above rules a bit.  Most of the time, you'll be replacing windows that are white PVCu or white/cream painted timber.  But that doesn\'t mean you have to stick with white, even if all of your neighbours have.
And, this might come as a surprise, but your only option is not grey (not that we've got anything against grey!)
Often, choosing a colour that isn't white will suit your house much better.
Residence Collection windows, for example, come in a well curated range of colours and wood finishes inspired by the 17th and 19th centuries.  You can even choose dual colours, meaning that the interior colour of your windows is different to the exterior colours.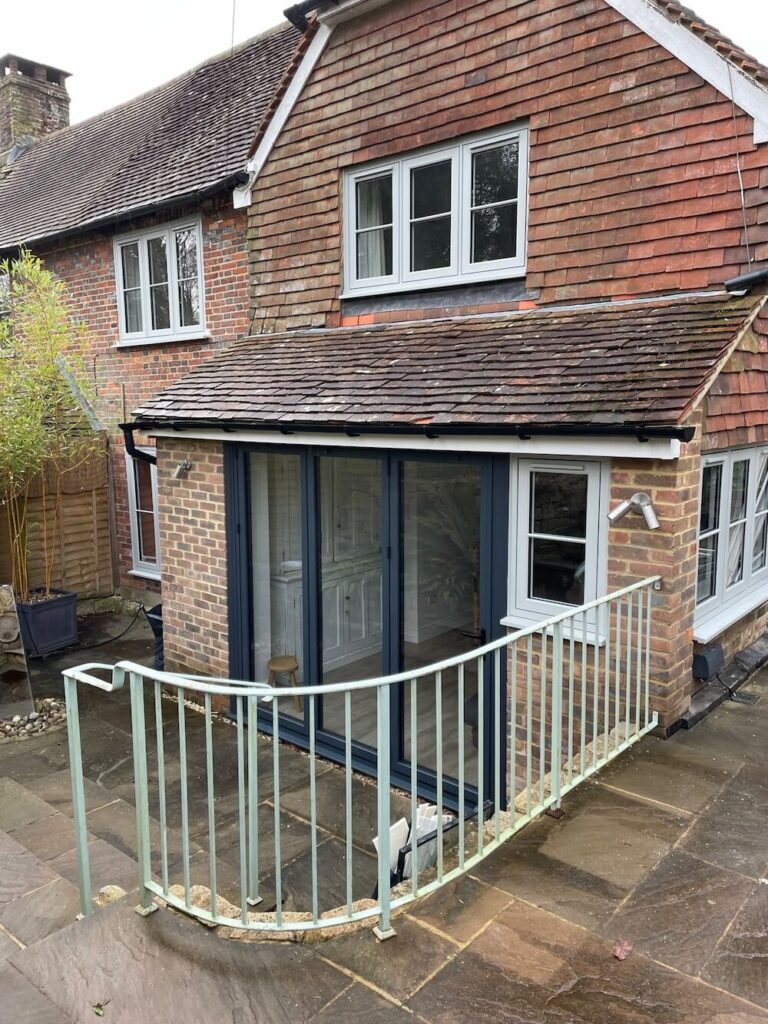 ---
3. Go with quality windows, you'll be given more choice!
When you choose high-quality windows from a reputable window manufacturer, you'll be given more choice when it comes to the details.
Think hardware, colours, textural finishes, and the correct style for your house!
Cheap windows not only look cheap, but the designs are often very bog-standard.  If you have been given a lot of choice at a significantly lower cost, you can bet you'll receive something that, unfortunately, isn't very well finished.  This doesn't only  cause performance issues but the windows will stand out like a sore thumb.
What do they say, accessories can make or ruin an outfit?!
4. Put your trust in your window company of choice.
OK, this one comes with a huge caveat!  If you've done your due diligence and have chosen a reputable, regulated company who only work with trusted suppliers, then trust their judgement!
They work with windows all day, every day, and when it comes to the detail, they know what they're talking about.

Second caveat!  Don't ever feel pressured or forced into making a decision you don't want to.  A good, local, window company should work with you.  They should be there to advise, but at the end of the day, it's your house, your money and your windows!
Our final word…
As a small, local, family run business, our ability to work closely with you and your property means that we have the upper hand on helping you choose the best, most suitable windows for your house and local architecture.
We love the properties of Guildford, Godalming and the surrounding villages, and feel strongly that they should be well accessorised with beautiful, complimentary windows and doors.
It sure does make the drives between jobs more enjoyable!