Are Solidor the best composite doors?
You're likely reading this post because you're in the market for a new front door and want to know what a Solidor composite door is, and whether Solidor doors are the best out there!
Well, we really believe they are, and here's why.
Before we get on to anything else, let's talk about what a composite door actually is.
The first thing to know is that, contrary to assumptions, composite and PVCu don't mean the same thing…
PVCu stands for Poly Vinyl Chloride (with the u standing for unplasticised, meaning it's not softened during manufacture and retains its strength)… in layman"s terms, it"s a type of plastic used to make windows and doors.
A Solidor composite door contains PVC (note the missing 'u') but that's only a part of the composition, specifically, the outer skin.
Composite <> composition. A Solidor composite door is made up of a collection of materials, including a hardwood timber core… and other fun stuff we won't list because that's likely more detail than you want!
1. Solidor composite doors are made with a hardwood timber core.
Not all composite doors are made equal. Whilst the core of a Solidor is made from hardwood timber, some are made from high density foam.
So why is a hardwood timber core a plus point?
A hardwood timber core is much more secure than a high-density foam interior. A timber core is a natural solution to both temperature insulation and sound insulation.
When installing a Solidor door, you can be assured that your house will feel warm and outside noises will be reduced.
Whilst a Solidor obviously won't do anything to reduce the noise/heat seeping through your windows, we can!
2. Solidor doors look really, really good!
A Solidor beautifully and successfully replicates the look of a traditional timber door, at a lower price and with higher durability.
They come in a range of designs, from traditional to modern, and you can match the hardware of your choosing, in the colours you want!
Whether you need a door with glass panels or not, you've got a selection of designs to choose from.
We challenge you to walk past a Solidor without admiring it!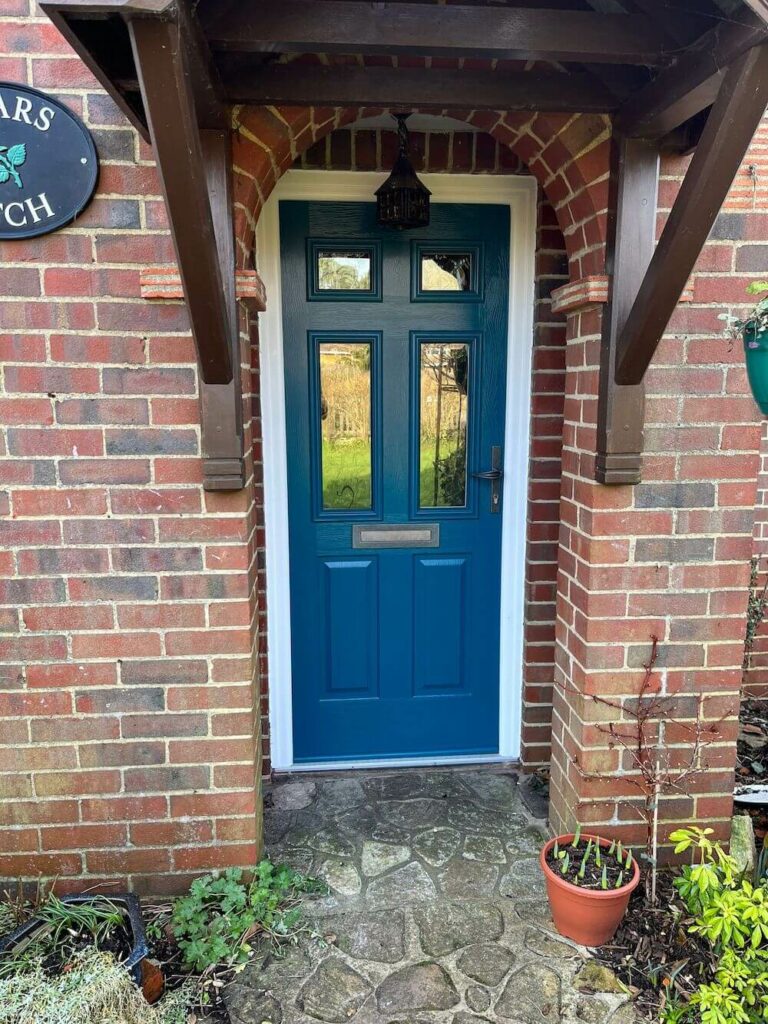 ---
3. Wrapped in weather resistant skin to help protect your door and your home.
You may have wondered what the outside of a Solidor door looks like. They've worked really hard to create an outer skin that beautifully replicates the grain of timber.
Trust us when we say; if your neighbour has a timber front door and you have a Solidor, you will not be able to spot which one is which!
And that's just the look of it. The outer skin of a Solidor is weather resistant, protecting it from lashing rain and UV rays.
When your door is protected, so is your home.
4. Solidor make it super easy for us AND for you!
When you visit the Solidior website and go through their 'Design a Door' process, your design will be sent directly to your local Solidor approved installer for quoting.
You can also do this directly on our website, by the way!
It takes loads of leg work out the process for you, and means that we have all the information we need from you, from the get go!
We're really proud to be an approved Solidor installer in Guildford, Godalming and the surrounding Surrey areas.
5. Solidor doors are made in Britain.
As a British company, we love to support other British companies and manufacturers.
Not only are Solidor doors made in Britain, Solidor employs nearly 200 staff from their local area and have a program in place to help get unemployed people back into work.
6. Solidor doors are really safe!
With all the green credentials and design features of the latest doors and windows, it can be easy to forget…
The main function of your front door is to protect you and your home!
Solidor doors are extremely safe. We mentioned the bonus of a timber core in the realms of safety, earlier. It would be remiss of us not to tell you about the locks!
We install Solidor doors with Ultion locks as standard. They're burglar proof and have an extremely clever hidden lock inside; when an Ultion lock detects an attack, it instantly goes into 'lockdown mode'.
Smart and safe!!
7. Solidor composite doors are fully recyclable!
You're probably not thinking about needing to recycle your door when you're on the hunt for a new one, but it's really important we consider the life-cycle of the thing we buy, no matter how long we're going to have them for.
From their timber core to the outer skin to the hardware, a Solidor is fully recyclable, something that can\'t be said for many composite doors on the market.
We REALLY love Solidor doors.
With their Traditional and Italia ranges, you can be sure you'll find something that will suit your needs and your home.
You can design your French, stable and front door (with the option of side panels, too) in one of 20 colours, with the option of dual colours (a different colour inside to outside). There's a fantastic range of hardware, too.
If you"re looking at getting a Solidor and live in Guildford, Godalming and the surrounding Surrey villages, design your door today and we'll get back to you with a quote as soon as we can.