As a trusted family-run window company in Godalming, we're not just about installing beautiful, energy-efficient windows and doors – we're also dedicated to making sure that the old ones don't end up cluttering our planet. Indeed, we're talking about recycling the old windows and doors that we carefully remove when installing new ones.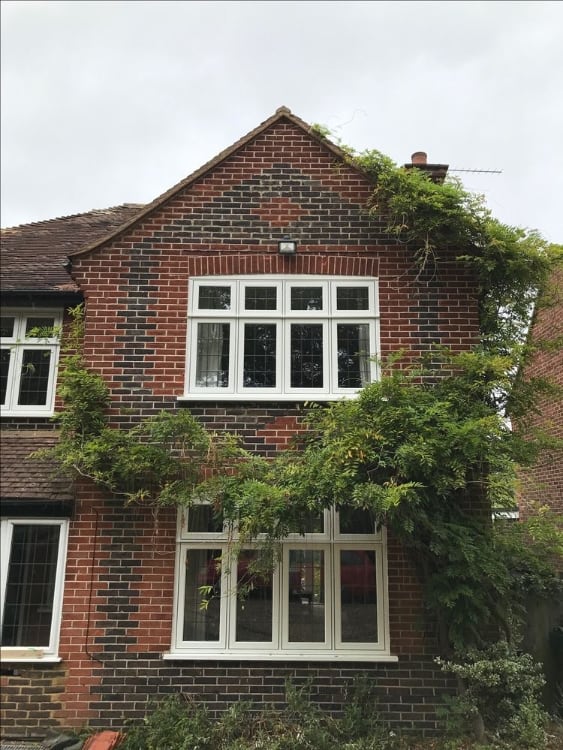 Today, we're going to take you on a wee journey through our process of window and door recycling, from the moment we start removing them to the final transformation into something new and useful.
1. SAY FAREWELL TO THE OLD WINDOWS AND DOORS
When we start on a window and door replacement project, the first step is to carefully remove the old ones. If you're picturing an ever-growing pile of discarded frames and broken glass at our yard or in landfill, think again.  Our team takes utmost care in dismantling the old doors and windows and we couldn't, in good conscience, do anything but recycle what we rip out.  We've just the partner for the job.
2: WINDOW RECYCLING BEGINS WITH SORTING AND PREPARATION
When we've got a good amount of waste material, we drop everything off with our recycling partner, Chambers.  Then, the real magic begins. Like expert treasure hunters, the Chambers team sorts through the materials, separating glass from frames and hinges. This meticulous sorting process ensures that each component is ready for its unique recycling journey.
3: DEALING WITH THE GLASS
The glass from the windows undergoes a fascinating transformation. Glass from windows is a little unique and can't be mixed or recycled with regular glass.  This glass is separately cleaned, crushed, and turned into aggregate to be used in construction materials, such as concrete or cement.  
4. WHAT ABOUT THE FRAMES AND METALS?
So, what about those sturdy frames and metal parts? Well, they're not left behind either! In window recycling, every possible part is put to good use. The metal, once separated from everything else, is sent to specialised facilities where it's melted down. This molten metal can then be used to craft new frames, create other metal products, or even form the backbone of new buildings.  
As for the uPVC frames, chambers recycle that with a specialist recovery facility.  There, it's sorted and separated, cleaned and then granulated into pellets for direct reuse in the uPVC manufacturing industry.  You read that right, old uPVC is used to create new uPVC.
5: ENERGY FROM WASTE
Hold on, we're not done yet. We chose our recycling partner carefully; Chambers is committed to minimising waste and maximising resource recovery. That's why any residual waste left after the recycling process, such as timber from old frames removed, doesn't go to waste either. It's used to generate energy and power, meaning less raw material needs to be sourced to generate the energy that you might be using in your home.
6: EMBRACING A CIRCULAR ECONOMY
We hinted at this above, and thought it deserved a section all of its own.  What makes this whole process even more fantastic is that some of the materials generated from recycling windows and doors can be used to create new windows and doors, completing a beautiful circle of sustainability. These new products not only look stunning but also contribute to reducing our carbon footprint and conserving precious natural resources.
CELEBRATING A BRIGHTER FUTURE THROUGH RECYCLING
In a perfect world, us humans would  vastly cut down on the amount of new products and materials we churn out and use, and that's generally the aim. But, the majority of materials have a finite life span, and sooner or later, those windows and doors of yours will need replacing. Yes, even those sturdy aluminium windows and charming timber ones will wave the white flag eventually. Indeed, when the time comes, it actually makes more environmental sense to replace those not-so-efficient windows and doors. But here's the promise we make to you – we commit to doing our part by sending all those retired materials to the right place and giving that sustainability circle an extra spin.
So, there you have it – a detailed look at what happens to the windows and doors we remove during our installation projects. Thanks to our partnership with Chambers, these materials are given a second chance at life, contributing to a cleaner environment and a brighter future. We believe that every small effort counts, and by choosing our window company, you're not just investing in the comfort and beauty of your home, but also in a more sustainable planet for generations to come.