So, the decision has been made – it's time for a new front door, and you've got your sights set on the prestigious Solidor range. But before you pick up the phone to your local Solidor installer for a quote, hold that thought! There's an exciting avenue you must explore first, and that's the remarkable Solidor Design-a-Door feature. Let us walk you through the process, step by step, and unveil the magic behind crafting your perfect composite front door.
1: HEAD TO OUR WEBSITE
To kick-start your journey, head to the 'Build a Door' tab on our website, conveniently located on our main menu. This is where the design process begins.
2: CHOOSE YOUR DOOR CATEGORY
As you step into the Design-a-Door realm, you'll find four distinctive door categories waiting for you:
– Stable Door
– French Doors
A heads-up – when we mention French Solidors, we're not referring to French patio doors; these are a breed apart.
3: SELECT YOUR FRAME TYPE
Moving forward, it's time to determine your frame type. Here's where you can add side panels, transom lights, or fanlights to amplify your composite door's appeal. Don't sweat the measurements – our experts will handle those during the site visit.
4: DIVE INTO DOOR STYLE
The heart of your journey begins with selecting the door style that resonates with your aesthetic aspirations. If inspiration hasn't struck yet, don't worry; we've got a helpful guide to choosing the right Solidor style for your home.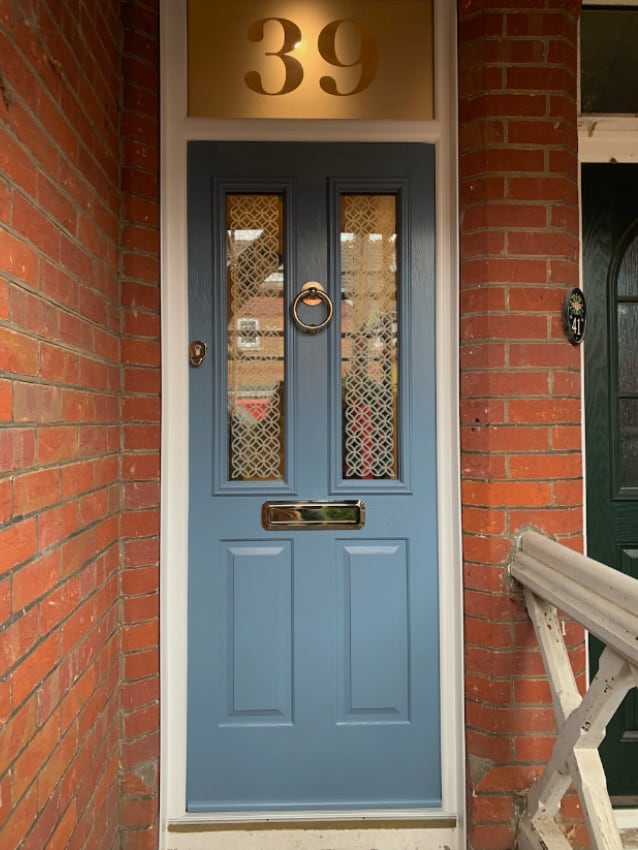 5: PAINT THE TOWN (OR DOOR) IN COLOUR
Not literally, one of the touted benefits of a Solidor is that it requires no painting.  Ever. Hip, hip hooray!
Inject personality into your door by choosing the perfect colour. Did you know you can opt for a two-colour Solidor? It means you have the option to contrast your door's exterior colour with the interior colour, if you so wish. You're also in control of the frame colour.  These options present a splendid opportunity to harmonise your door with your interior palette, whilst opting for something a little more daring on the outside.
 6: HAVE A GANDER AT THE GLASS OPTIONS
Glass can add a touch of elegance and functionality to your door, if you choose to have it at all, of course. Select from a range of stunning designs, all boasting durable, energy-efficient, and noise-reducing Planitherm Total Plus, Diamant glass sealed units.
7: TIME TO ACCESSORISE YOUR DOOR WITH HARDWARE
Hardware isn't just an afterthought; it's the crowning glory of your composite front door. Handles, knockers, hinges, spy holes, and letter plates – these are the accessories that elevate your door's style. Choose from a spectrum of styles, from modern to heritage, and select the perfect finish to make your door truly shine.
8: LAST BUT BY NO MEANS LEAST, SOME ESSENTIALS
Before you register your enquiry, a few practical steps remain. Specify your preferred lock type and hinge side. Don't fret; it's simpler than it sounds. Just stand outside your current door, looking in, to determine the hinge side. As for the lock, consider your usage and convenience, and choose what suits you best; keys, thumbturn or a bit of both?
9: REGISTER YOUR ENQUIRY AND AWAIT THE MAGIC
With your choices locked in, hit the 'request quote now' button, and we'll spring into action. Your quote request will be our cue to meticulously assemble all the technical details. And fear not – changes can be made down the line, so you have room for refinements.
A SMALL NOTE ON MULTIPLES
One door, one design – that's the name of the game. Submitting multiple designs for the same door will still lead us to quote for just one. Our aim here is to guide you towards an initial price estimate and then focus on fine-tuning the details during the next stage.
AND THAT'S IT – SIMPLE AS PIE!
Design-a-Door is your portal to precision, efficiency, and an insightful visual preview of your Solidor masterpiece. Embrace this straightforward process that streamlines your vision and makes the composite door of your dreams an exciting reality. With Solidor, the transformation of your home's façade is a few clicks away, paving the way for elegance, security, and unmatched style.