Embarking on a home improvement project is an exciting journey; daunting, often stressful, but exciting. Depending on the scale of the renovation, you might find yourself tasked with selecting the right windows for your home.
Whether you're working with an architect or have taken on the design yourself (fuelled by many-a Pinterest board) you're likely considering aluminium windows. You're reading this blog post, after all.
Aluminium windows are a premium option known for their sleek appearance and durability. But what if they surpass your budget? That's the dilemma we're delving into today.
How do you balance architectural aspirations with financial limitations? And what alternative solutions can help you achieve the style you're after, whilst also staying within budget?
WHAT'S THE APPEAL OF ALUMINIUM WINDOWS, ANYWAY?
Aluminium windows have seen a comeback in modern architecture. We're in full support; they look great and have numerous advantages. We're talking exceptional strength, low maintenance requirements, and impressive energy efficiency. The slim profiles of aluminium frames also allow for larger glass areas. This means more natural light can flood your interiors, creating an open and inviting space.
1. WHAT ARE THE ALUMINIUM WINDOW ALTERNATIVES?
Aluminium is renowned for its modern appeal, true. But other frame materials, such as uPVC, also offer great durability and energy efficiency at a more budget-friendly price point. uPVC comes in various finishes and colours, too. Unless you're planning on specifying one of the 500+ RAL colours available for aluminium windows, you'll probably find that the options available for uPVC are more than sufficient. Whilst you won't get quite the same slimline profile as aluminium (beware of anyone telling you it's possible), there are some really sleek uPVC windows on the market.
2. COMMUNICATE WITH YOUR ARCHITECT – BACK TO THE DRAWING BOARD!
Your architect plays a pivotal role in realising your vision whilst also accommodating your budget. If you're leading the design yourself, check-in to see if you've become caught up in FOMO!
Engage in an open conversation with them about your financial constraints. They might be able to suggest design modifications that maintain the architectural integrity whilst aligning with your budget.
3. COMMUNICATE WITH YOUR WINDOW SUPPLIER
Us window suppliers are the window experts and will happily show you alternatives. You'll also be able to visit showrooms to see for yourself the real difference between aluminium and uPVC. It may not be as much as you thought. You never know, you may end up preferring something else!
4. PRIORITISE WINDOW PLACEMENT – WHERE DO ALUMINIUM WINDOWS REALLY MATTER?
Another workaround to aluminium windows being out of budget is to get creative with where and how you use them. Consider focusing your investment on strategically important areas. We often have customers speccing aluminium windows for feature extensions and opting for uPVC elsewhere.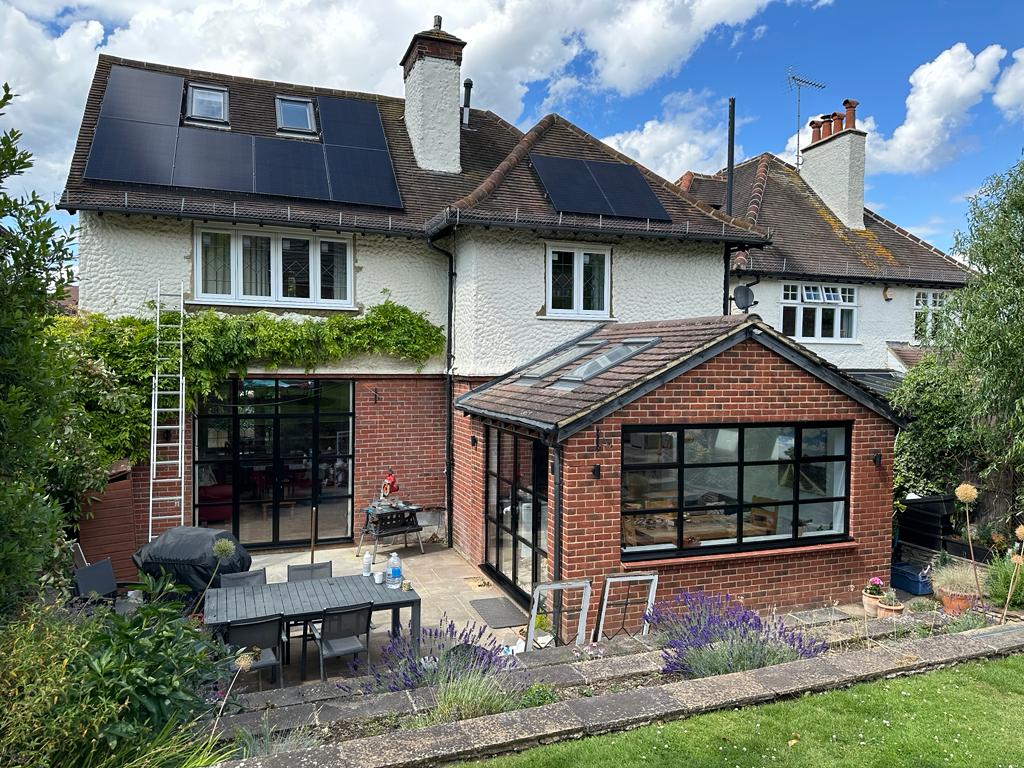 But what if your architect has specified aluminium windows for multiple rooms? Discuss which spaces would benefit the most from them and see which rooms could also suit something else. By prioritising aluminium window placement, you can allocate your budget more efficiently.
5. WHEN ALUMINIUM WINDOWS EXCEED YOUR BUDGET, YOU CAN ALWAYS STAGGER THE JOB
There's no rule that says you need all your windows replaced and installed in one fell swoop.  Again, we often have customers who replace their windows in phases.  This is a great solution if you're set on having an aluminium windows throughout, but don't have the budget to do it all right now.
In the realm of home renovations, balancing aesthetics and budget is somewhat of an art form. Sure, aluminium windows present an enticing choice. That said, there are great alternative solutions that allow you to tick both the style and budget boxes. 
What matters to us, above all else, is that you choose something you're over-the-moon happy with.   If that's aluminium, so be it, there are ways around the budget. 
If you're more than happy with uPVC but got caught up in the hype of aluminium, please don't see it as a second choice. It's far from it.  The uPVC windows we install are truly beautiful and will see you right on the performance front, too.
Remember the ultimate goal: create a living space that reflects your architectural vision, provides comfort, energy efficiency, lasting value and stays close to your budget.