How to choose a new front door that will be perfect for your house? Your front door is one of the first things people see when they visit your home and you want it to make the right impression.
Choosing your new front door is a big decision….we get it!
Door colours have trends just like anything else, but trend isn't all that matters when you're flicking through the swatches.
The colour and style that best suits your house, the shade that will express your personal/interior style, and the wow-factor that will give you that teensy edge on your neighbours are all important!!
We've put together this short guide to help you pick a style and colour that you'll love seeing every time you come home.
1. Does the style of front door you have in mind compliment your house?
We would say this is the most important step in choosing the colour and style of your new front door. You want to choose a style of door that compliments the style – and age – of your house.
If you don\'t already know, find out when your house was built, and then get yourself on Pinterest to see examples of doors that have been installed in houses of a similar style and age. Be sure to make a note of what works and what doesn't, and why!
Once you've done that, head to the Solidor 'Build a Door' page on our website so that you can do exactly what it says on the tin. Solidor have brilliantly categorised their doors into traditional and contemporary to make it that bit easier for you.
Check out how we were able to replicate an original timber door in a cottage with a Solidor and matching sidescreen. We were even able to re-use the original door furniture! Doesn't it look fab!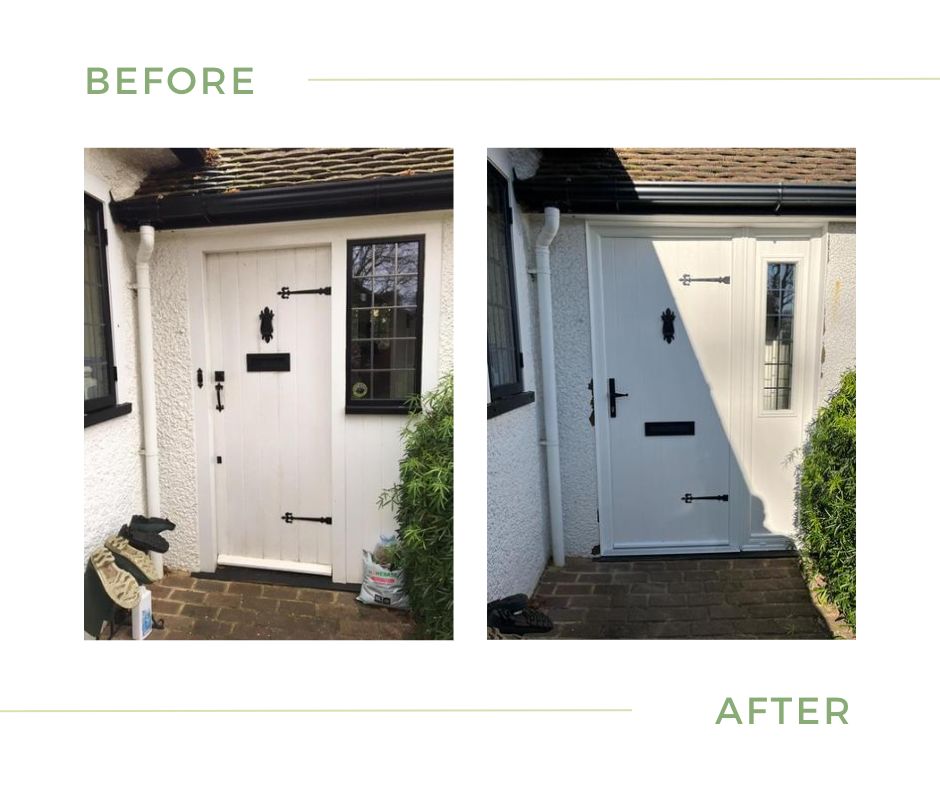 Now, on to the colour…
2. Take a walk around your neighbourhood and look at your neighbour's doors!
If you're a naturally curious/nosey person (aren't we all?!) then this is a great excuse to have a nose about.
Typically speaking, the houses in your neighbourhood will be of a similar style and age to yours. There's a good chance that the odd house might have a different finish to yours, so do keep that in mind.
This is your time to try before you buy!
Start taking note of what you like and what you don"t like.
Do the proportions of the door work? What's the glass like (if there is any). What kind of hardware have they chosen? How does the colour they've chosen sit with their house and within the general aesthetic of the area?
Are there loads of doors of the same colour and would you like something a bit different, or something in keeping?
You also need to consider the colours of the bricks, render or cladding on your house. Do you want a fun complimentary contrast or something that blends in?
Take note: Solidor give you the option of a different colour inside to out, so that question applies to the colours inside your home, too.
Top tip: before pressing the go button on your front door, double check whether there are any council or heritage regulations you need to adhere to. This applies to both style and colour.
3. Consider your personal and interior style.
Your front door is the gateway to your home. It's the preview of what to expect once the threshold has been crossed.
As we've already mentioned, Solidor [LINK] offer the option to choose a different colour for the inside of your door. So how will you play with that?
If your personal/interior style and colour palette is calm and neutral, you might choose something that carries earthy tones and soft hues. That doesn't mean you have to go with grey or cream though. Think natural wood, a shade of green or even lavender!
If, however, your personal/interior style is bright and fun, you might want to go for something equally bright and fun (taking into consideration steps 1 and 2). Or you might choose something muted – such as painswick or duck egg blue – that serves as the perfect backdrop for all the colour yet to be seen inside!
4. What front door trends have we seen?
Grey has been a firm favourite for many years now and we can see why. It comes in many shades which all have their own personality.
In recent years, we've seen a shift away from anthracite grey to agate grey or painswick, which is an altogether softer, calmer shade of grey.
That said, 2022 saw an increase in red door installations, which shows us that people are keen on bringing a pop of colour back into their lives!
Now that the toe has been dipped in the water of colour, our guess is that we're going to see more of it. Think shades of green, blue and soft pink. Colours that harmonise with nature and provide that moment to breathe and ground yourself as you transition from one part of your day to the next.
The long and short of it…
You could see picking a colour for your new door as just another task to tick off your to-do list. Or you could give it a bit more time and attention (the Solidor Build a Door function makes it quite fun!) to make sure it's just right for you and your house.
It is, afterall, something you're going to be seeing every day for quite some time!
If you're local to us, head on over to the Build a Door page and start playing!