When it comes to enhancing the functionality and aesthetics of your windows and doors, choosing the right hardware is where it's at. 
If you're wondering, hardware includes handles, locks, knockers, hinges, letterboxes and even spyholes.
Hardware not only provides security and convenience but also contributes significantly to the overall style and appeal of your home. 
With a wide range of options available, selecting the appropriate hardware can be overwhelming and leave you opting for the same old standard options.  But, hardware can be fun and with a little thought and understanding, it doesn't have to take up too much of your brain power and can give you some wonderful results.
In this blog post, we guide you through the process of choosing the perfect hardware for your windows and doors, so  that you can go forth and make a decision you're truly happy with.
1. First things first: understand your needs
Before delving into the specifics, the first step is to understand your requirements. Make a note of things such as the architectural style of your home. If you're looking at door hardware, think about the intended purpose of the door, and consider the level of security and energy efficiency you desire. 
Understanding your needs will provide a clear direction and starting point when selecting the range of hardware components you need.  
Top tip: If you're undertaking a bigger project and are super organised, a list will help you check each item off when ordering, to make sure nothing is missed.
2. When buying hardware, quality really does matter
Investing in high-quality hardware is essential for longevity and functionality.  Thinking you can get away with cheaper hardware is a risky game and you\'ll pay for it down the line.  
Hardware isn't only there to make your windows and doors look fabulous; the usage is heavy and that takes its toll.  
Inferior hardware may not withstand the test of time, compromising both security and performance.  Choose reputable manufacturers known for their durability, reliability, and craftsmanship. Prioritise solid construction, corrosion resistance, and easy maintenance to ensure your hardware lasts as long as your windows and doors.
3. Get clear about the types of hardware you need
Remember that checklist you're making?  Here's a rundown of the different types of hardware you need to consider:
Window Hardware
Window Locks: Security is a primary function of windows. Opt for robust window locks that are both tamper-resistant and easy to operate – sounds like an oxymoron, we know. Different types of locks include sash locks, casement locks, and sliding window locks.
Handles: Window handles should be comfortable to grip and operate smoothly. Choose styles that match your aesthetic preferences and the rest of the window hardware, while also considering ergonomics and ease of use.
---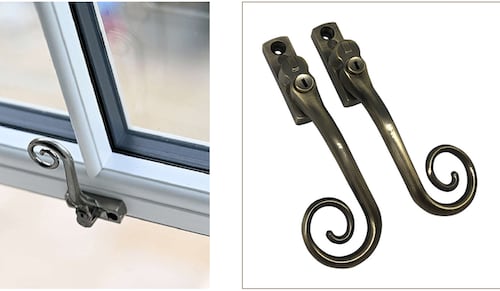 ---
Window Hinges: Hinges play a crucial role in allowing windows to open and close seamlessly.  When it comes to aluminium and PVCu windows, the hinges will usually come as part of the package (although you can always specify the finish).  If you've chosen a reputable window manufacturer and high quality windows, you can rest easy in the knowledge that the hinges will be of a high standard, too.
Window Stays: Stays control the opening angle of windows and help maintain ventilation. In terms of what to choose, the same rule applies here as it does to hinges.
Front/back door hardware
Door Handles and Knobs: Door handles and knobs aren't only functional; they're the cherry on top of your door cake.  Choose something that complements your overall exterior and interior aesthetic (remembering that your door is your home's first impression).
There are quite a few different types of handles and knobs to choose from, including lever handles, doorknobs, bar handles and thumb pulls.  Then there's the finish to consider…
Door Locks: Security is a critical aspect of door hardware. Select high-quality deadbolts or smart locks to ensure the safety of your home. Look for features such as anti-pick, anti-drill, and anti-bump mechanisms.  
Door Hinges: Hinges for doors should be sturdy and capable of supporting the weight of the door. Choose hinges that are durable, corrosion-resistant, and provide smooth operation.
We work with and supply Solidor doors, who have a vast range of fabulous hardware to choose from, in a range of finishes.  When it comes to hinges and locks, Solidor have taken the technical guesswork out of it by providing a refined, tried and trusted selection.  There is, of course, the option to upgrade if you so wish.
4. Align your hardware to your general home aesthetics and style
It makes sense to align your hardware with your general style. Pay attention to the finish, colour, and overall design of the hardware to ensure they complement the style of your windows and doors. Choose from various finishes like chrome, brass, nickel, or powder-coated options to achieve the desired look.
5. Consider energy efficiency (of course)
What is energy-efficient hardware and does it really exist? Well yes, it does!
In this context, we're talking more about the hardware you don't necessarily see. Opting for energy-efficient hardware can significantly impact your home\'s thermal performance.  As already mentioned, this'll likely come as part and parcel with your windows and doors. Another reason to choose a company that's reputable and a product that's high-quality.
Top tip: This is where overwhelm can take over and the jargon starts to scramble on the page.  To make it easier for you, the kinds of words and terms you want to be looking for are weatherstripping, thermal breaks, and multi-point locking systems.
6. Don't hesitate to ask for advice
If you want extra advice and guidance, don"t hesitate to consult the company you're working with.  As a small, family run window company, we work closely with our manufacturers.  We"re able to offer valuable insights and recommend hardware options based on your specific needs, budget, and architectural requirements.
---
Choosing the right hardware for your windows and doors affects both the functionality and aesthetics of your home. By understanding your needs, prioritising quality, considering various hardware types, paying attention to aesthetics, and focusing on energy efficiency, you can make an informed choice with confidence.